2023 Iron Dog - Day 5 Update
Seeing the Nome garage full of sleds is a familiar sight for anyone who has followed this race for any amount of time where a whirlwind of bodies, wrenches, and parts will be flying as teams tackle the carnage of the last 1,400+ miles.  Team 7 was first to pull into the Nome checkpoint, followed by Team 14 just under 30 minutes behind them.  In the course of a week-long race, a half hour lead could be viewed as a razor thin margin.
While the front half of the pack seems to be stacked tightly, Teams 8, 20, and 41 are all within 5 minutes of one another in 10th, 11th, and 12th position.  No scratches yesterday was a huge win for racers completing that final 439 mile stretch into Nome.  
Details of the wrenching/repair process are that teams are given a 'free' 15-minute inspection window where they can assess parts, tools, and equipment necessary to perform what repairs they might see during that inspection window.  Teams can also use a computer for diagnostic work should engine codes be present or some other issue that is computer controlled crop-up.  
While actual repairs are being done, this amount of time will be added to the teams overall course-time, so its an all-hands-on-deck endeavor to get everything done as fast as possible. I was able to get in contact with Blake Elder of Team 30 who, while scratched, was able to make it to Nome to lend a hand on repairs and enjoy the banquet ceremony. 
While teams are working on repairs, no outside help is allowed to be given except for other teams if they decide to lend a hand.  There is a huge community aspect of this race and its often seen that these pro-class teams will help each other out even in light of thousands of dollars of prize money on the line. 
Below you can see Mike Morgan and Chris Olds giving Shane Barber and Troy Conlon of Team  assistance with their repairs.  You can see the entire rear skid of one of the Polaris Cross Country 600 machines torn out for shock swaps, torsion spring replacement, and other preventative maintenance work.  If you're looking for a more experienced pit crew you likely wouldn't find one.  Between these four racers, they have notched an eye-watering 55 pro-class starts which translate into untold amounts of wrenching, racing, and expertise in this field of work.
In light of the banquet its time to give Iron Dog Executive Director Mike Vasser (pictured below in gray) a shout-out!  This year has the largest purse ever in the history of the Iron Dog and these pro-class racers are reporting that he's doing a great job running this highly dynamic event along with the help of the Iron Dog Board of Directors.  Additionally, prior champion and now current Race Marshall Tyson Johnson has been doing a great job this year keeping all the racers on track and things running smoothly.  It takes an enormous amount of effort to keep things running the way it is and hats off to everyone involved in the organization.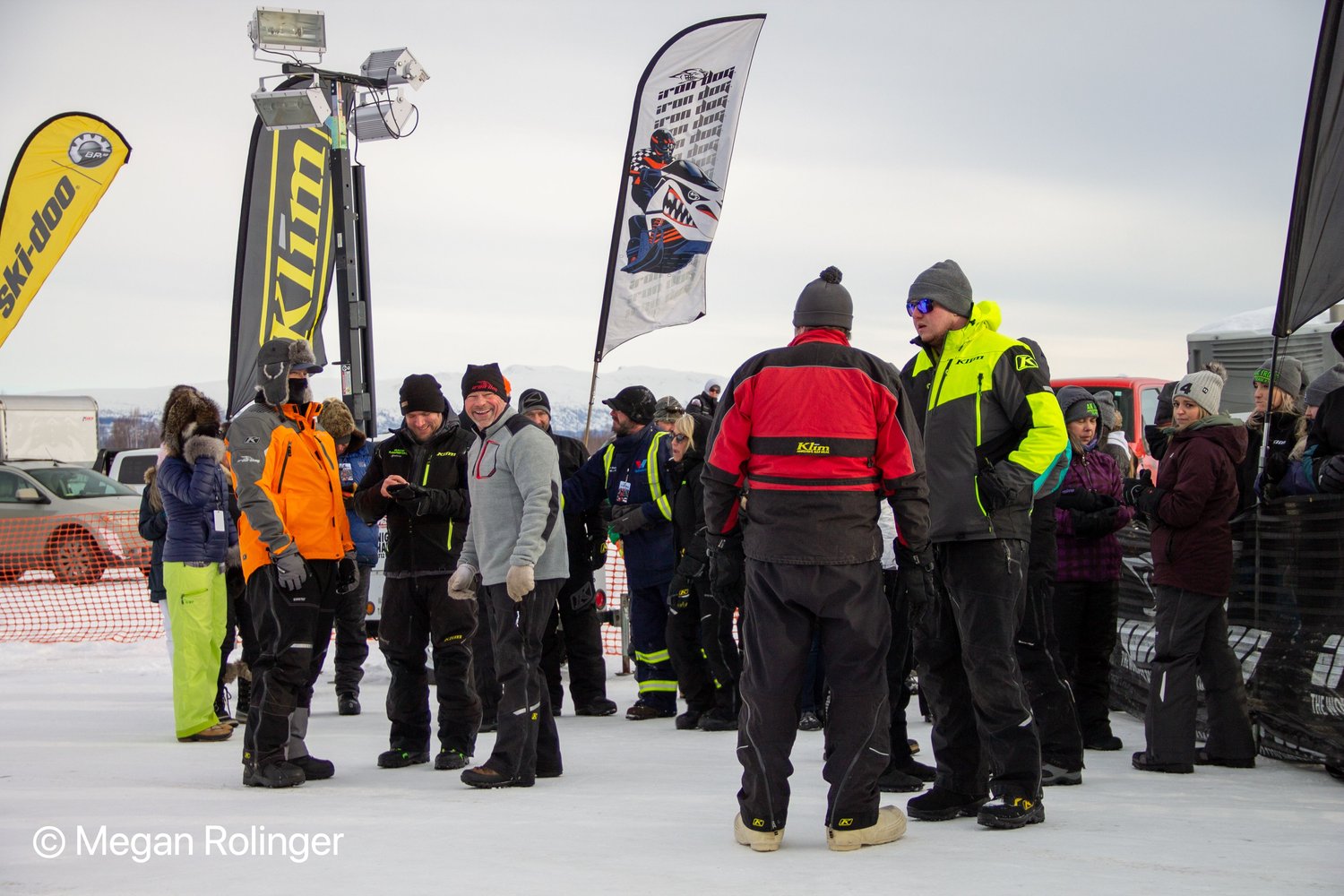 Elder reports that for most of the teams riding Polaris they are doing rear track shock replacements along with preventative torsion spring replacements.  Fans and officials watching the teams do repairs will also be seeing lots of carbide swaps on the skis, chain tightening, belt changing and other normal up-keep to prepare their sleds for the ride south which will be just over 1,000 additional miles.
There was a racers meeting on the concern of the weather.  A significant weather event has cancelled all inbound Alaska Airlines flights to the area and locals are reporting that the winds have pushed seawater up and into the head of the bay between Golovin and White Mountain.  This means that the trail the racers used to get into Nome will likely be completely overflowed with sea water.  To make matters worse the over-land trail that is normally setup as an alternate route has not been staked.
Weather in Unalakleet is looking abysmal as well and its forecasted to get a little bit worse before it gets better.  Louisa Paniptchuk who lives in Unalakleet posted the photo below.  Clearly the visibility is greatly diminished and the wind is pounding the coastline.
While Nome marks the halfway point for the Pro-Class teams, the Expedition Class sees the checkered flag under the arch!  One notable team is Team 77 including Mike Buck who is representing Alaska Safe Riders.  Buck will be performing some safety presentations along the trail to the children who live in the villages along the way and also hand out Iron Dog helmets.  Alaska Safe Riders generously donates hundreds of helmets each year to the kids in the villages and its worthwhile to highlight such a great organization.
Leave a comment